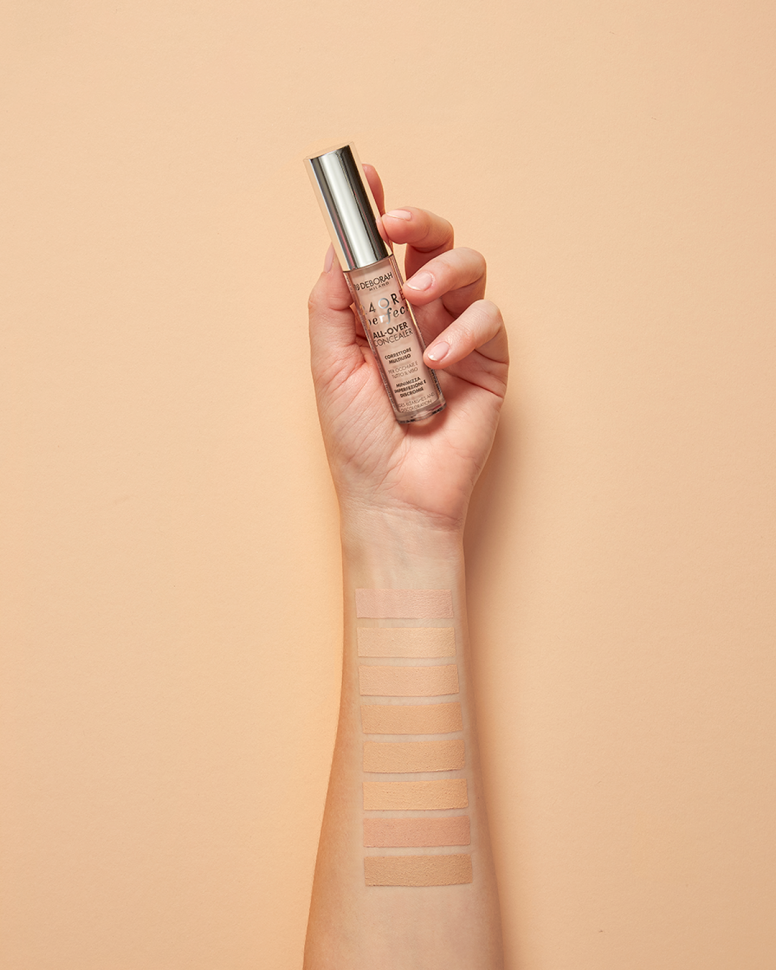 The new multi-purpose liquid concealer from Deborah Milano.
The 24Ore Perfect range now includes a new multi-purpose concealer for
perfect skin with a natural-looking finish.
In keeping with the rest of the 24Ore Franchise, the new 24Ore Perfect All-Over Concealer offers long-lasting natural coverage and a waterproof formula.
The lightweight liquid concealer minimises imperfections and erases dark circles and discoloration.
Formulated with functional active ingredients such as Hyaluronic Acid, probiotics and green tea, the product hydrates and revitalises skin and combats harmful free radicals.
With the extra-large applicator it's easy to get sheer-to-full coverage on each part of the face.
The liquid concealer is water resistant, and has a melting consistency that delivers lasting perfection.
Available in eight shades.
PRO TIPS FROM LUCA MANNUCCI, MUA DEBORAH MILANO
The precision applicator releases just the right amount of product.
I recommend using the pointed end to dab two small dots of concealer to the inner and outer corners of the eyes and a third one over any troublesome dark circles or puffiness.
Tap the product the product with your fingertips once applied, it will warm the texture and help it cling perfectly to skin.
Use the flat end of the sponge to apply the product to the centre of the forehead, chin, bridge of the nose and cheekbones.
Lastly, using the fingertips or a fluffy round brush, blend the product over the whole face as you would with foundation.
If contouring is your thing, use a concealer that's a shade or two lighter than your skin tone to brighten
your T-zone, and a slightly darker shade for your cheekbones and jawline.
WHICH COLOUR CONCEALER IS BEST?
Choose your perfect shade based on your skin tone and undertones.
FAIR and LIGHT suit very fair complexions.
FAIR if your skin has cool pink undertones, LIGHT if your undertone is warm and golden.
BEIGE, NUDE and VANILLA are soft,glowing hues that are perfect for camouflaging redness and creating a sun-kissed complexion.
SAND is a pink toned concealer that adds instant radiance and brightens sallow, lacklustre Mediterranean complexions.
APRICOT and AMBER are ideal for darker and tanned skin and tone down the purplish and bluish hues that sometimes occur in olive complexions.