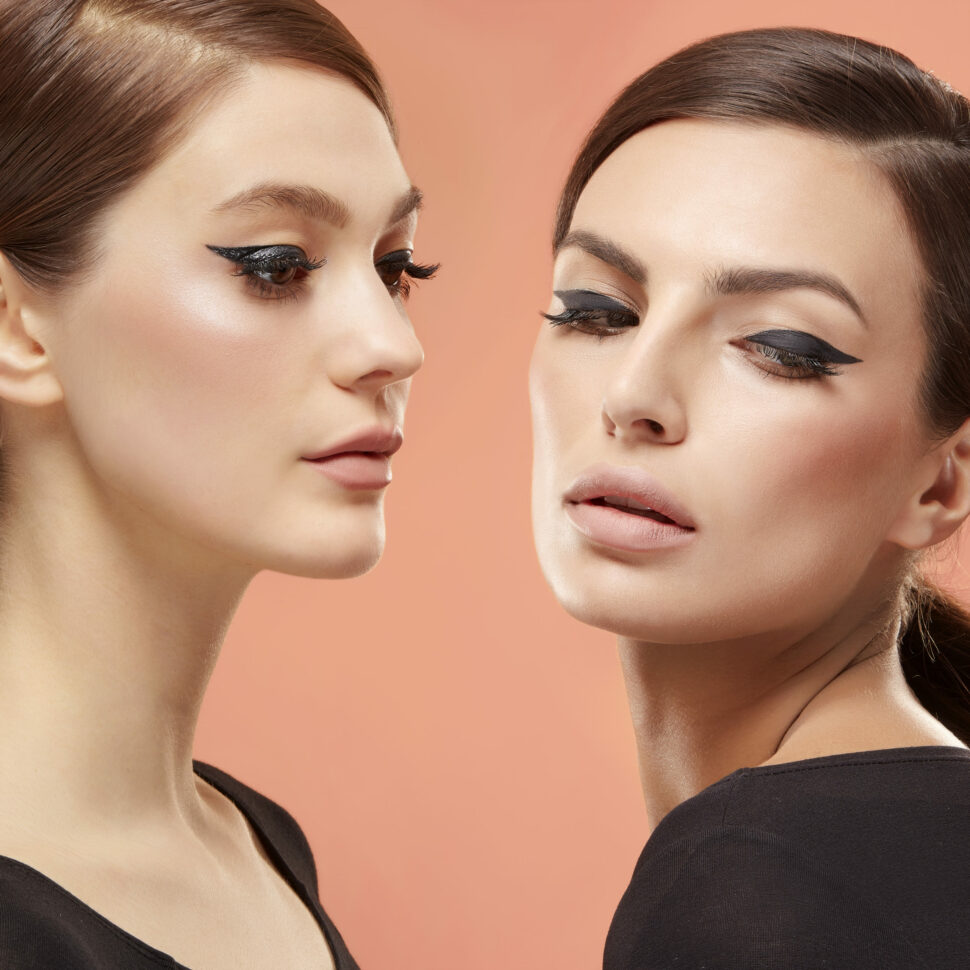 Deborah Milano's new eyeliners come in different varieties and finishes to make your eyes pop Deborah Milano presents the new super-easy, ultra-precise 24Ore Instant Eyeliner range. Get ready for the coolest eyeliner range ever!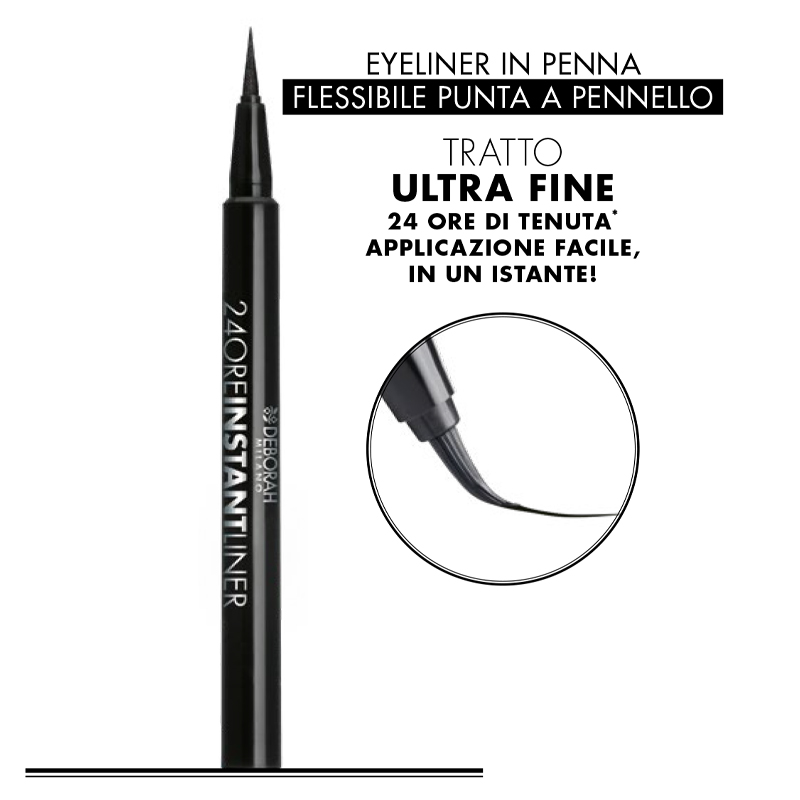 24ORE INSTANT LINER

The new 24Ore Instant Liner pen has a soft,
flexible brush tip for effortless application and superb precision.
Drawing a sharp, thin line of colour has never been easier – or quicker!
The blacker-than-black water-resistant formula stays put for 24 hours* and doesn't transfer.
The rich, glossy colour make this pen the perfect
product for creating all the most iconic eyeliner looks.
*Clinical and instrumental test conducted on 20 subjects.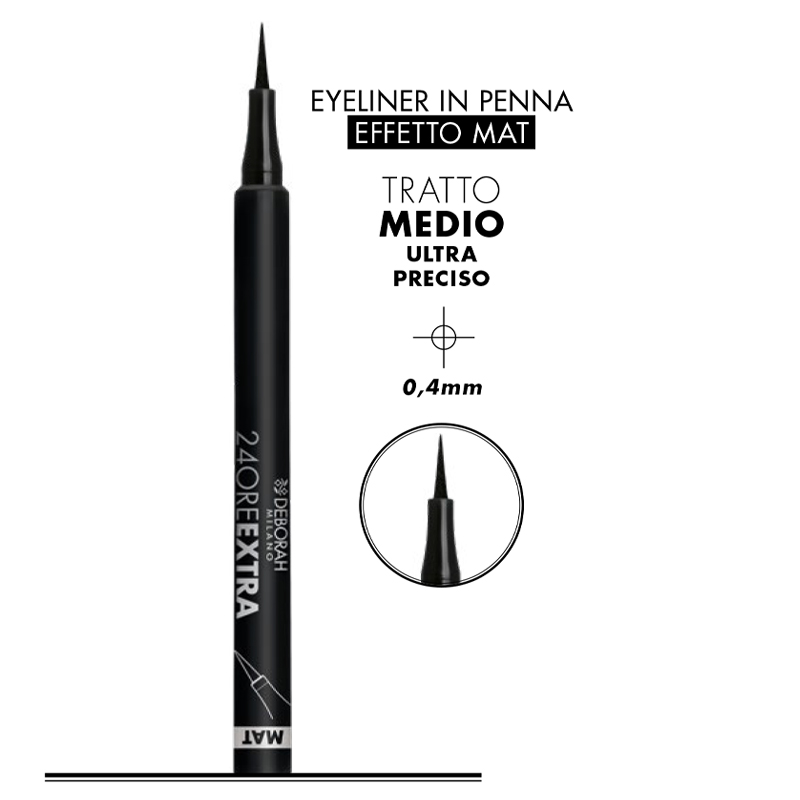 24ORE EXTRA MAT

24Ore Extra Eyeliner, comes in a handy pen format
and guarantees a smudge free crisp line thanks
to the felt tip precision applicator.
The water-resistant formula delivers vivid lasting colour
payoff that stays in place all day long.
24Ore Extra Eyeliner is available in a shine finish
or a super trendy mat finish and is poised
to become the go-to make-up solution for
beauty addicts everywhere.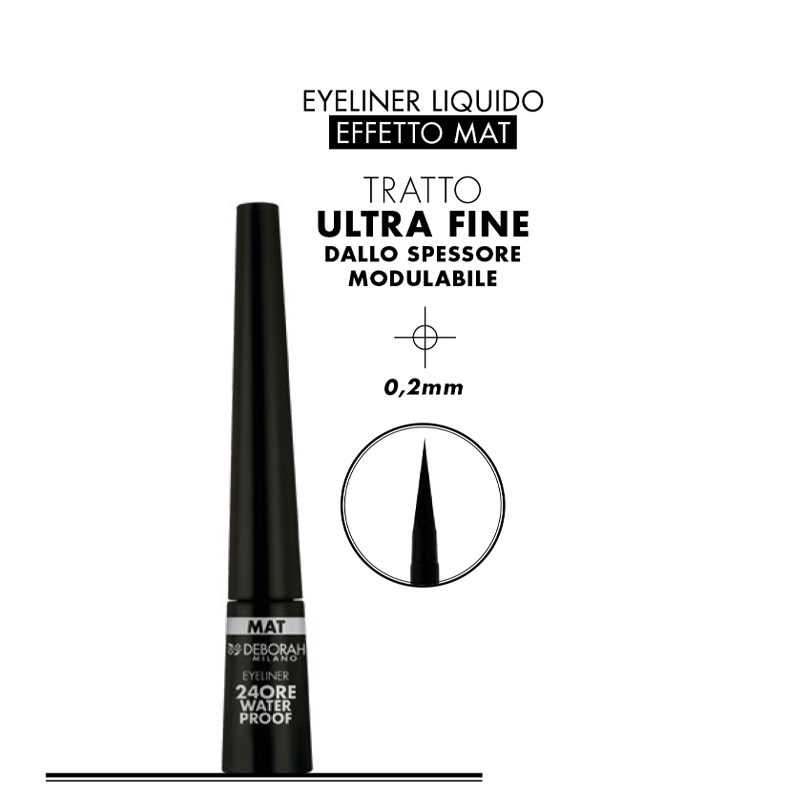 24ORE WATERPROOF MAT

Developed for inkwell eyeliner addicts 24Ore Waterproof Eyeliner delivers a crisp line thanks to its ultra-precise felt tip applicator, the texture is buildable for
any number of sensational looks.
The quick-drying waterproof formula provides a long-lasting colour payoff in a shine or mat finish that refuses to smudge or budge.
Professional performance that everyone can afford!
Tips from Luca Mannucci
HOW TO APPLY EYELINER:
NEWBIES
Gently place one finger in the centre of your eyelid then lift your lid up. Take an eye pencil and trace a line along the roots of the lashes starting from the inner corner of your eye.
Make sure the lines on both eyes are symmetrical, then go over the pencil with your favourite eyeliner. Don't worry, you'll soon be dispensing with the pencil!

ADVANCED BEGINNERS
Instead of trying to get a perfect line in one swoop, start with short strokes of eyeliner very close to the lash line. Now connect the strokes to create a single line. Once both eyes are done, you can extend the line outwards a little to create a winged look you can make as subtle or dramatic as the occasion calls for.

EYELINER EXPERTS
With eyes open, apply eyeliner from the inner to the outer corner, and extend the wing up toward the outer corner of your eyebrow.
For a classic 50s look, extend the wing upward at around 45 degrees and out.
For a totally modern look go horizontal with your wing, draw a line upwards from your bottom lash line and connect the top of the line to the centre of your eye, then just fill in the triangle!